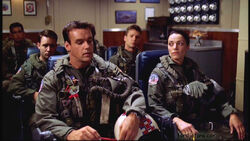 Harm is now a F-14 Naval Aviator with Elizabeth "Skates" Hawkes as his RIO. They suffer a bird strike....
Memorable Quotes
Edit
Elizabeth "Skates" Hawkes: Harm, I got a second Mig, bearing 045, closing on X-man
Elizabeth "Skates" Hawkes: Maybe he's deaf
Ad blocker interference detected!
Wikia is a free-to-use site that makes money from advertising. We have a modified experience for viewers using ad blockers

Wikia is not accessible if you've made further modifications. Remove the custom ad blocker rule(s) and the page will load as expected.