"Crossing the Line" is the twenty seventh overall episode of JAG, and the fifth in Season 2.
Harm and Mac face political pressure when a female pilot accuses Captain Boone of sexual harassment, the Captain says she's simply a bad aviator, and a prominent, obnoxious Congresswoman intervenes in the investigation. Mac supports the reckless Lt Issaks, while Harm gallantly managed to save Skates.
Memorable Quotes
Edit
Elizabeth "Skates" Hawkes: "For a woman to be one of the guys, well, sometimes she has to be willing to give up something of herself. You know, be less of a woman. Sometimes it sucks."

First appearance of Lieutenant Elizabeth "Skates" Hawkes, who would become Harm's RIO.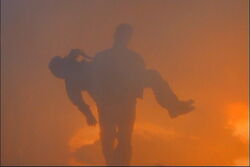 Ad blocker interference detected!
Wikia is a free-to-use site that makes money from advertising. We have a modified experience for viewers using ad blockers

Wikia is not accessible if you've made further modifications. Remove the custom ad blocker rule(s) and the page will load as expected.